…is our service for all companies that'd love to have internet media on their products. No matter if for AV systems, radio devices, cars, airplanes, trains, ships, space stations, websites or apps – airable is the service that gives access to internet radio, audio on demand shows, videos and TV shows or 3rd party music content….all worldwide and customized to the needs of your clients and your products. That's why airable is a white label Internet-Media-Service focused on your products, your clients – on your brand.airable is …
… White label catalogue and service
… Customized to your clients and products needs
… Tailored to your sales region and strategy
… Worldwide license free content
… Meeting customers' changing media consumption demands
Airable is the key to address the changes in media consumption. Consumers will watch and listen to radio, video, TV whenever they want and wherever they like. Airable enables them to do so.
API
The API is designed to be simple and flexible. The core output can be JSON or XML. We output only what is needed for your solution. A few basic commands are needed to get up and running quickly.
Playback
Playback of the content is also something that should not be overlooked. The interaction of codecs and protocols can be very complex. This is where our experience can help you through the process of testing many content formats to create robust playback on your product.
Cloud Synchronisation
The Airable service can be controlled from multiple points such as a device, mobile app, or web page. We make it easy to group your account so actions taken on one spot will get synchronised on all devices, app you link together.
.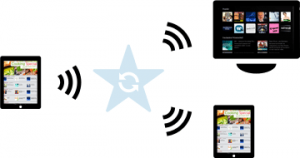 3rd Party Content
We take care of  implementing multiple music services. If the airable system is implemented, we can enable 3rd party audio and music (pay) services. You focus on a unified user interface for your clients and we take care of the technical and administrative work. Ask us for available 3rd party content services.
Customized Solutions
Each market is different, and each client has its specific needs. That's why we listen carefully! Catalogues and services will be customized as needed. For example we create your branded content for your customers curated by you or our editors.We create your individual companion website, help during app development, or consult with our extensive market experience.
Implementation
How is airable implemented, what are the next steps?
1. We exchange and sign an NDA agreement.
2. We send the API.
3. We send the private Keys used for service authorization.
4. We create a URL to use for development.
5. You develop the service based on the API or benefit from our App SDK.
6. Certification – we make sure everything is working properly on your product.
We have implemented our service and API on many platforms and can help you get started. We are always available to support you