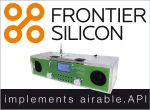 Frontier Silicon, a leading software provider for consumer audio devices, offers a broad range of smart audio products that allow device manufacturers to address every consumer need. To address the increasing demand on music services, Frontier Silicon added the airable.API to selected audio streaming modules, providing the simplest and lowest-cost solution for high-quality audio streaming.
airable.API reduces time to market for Frontier Silicon clients and adds flexibility to manufacturers in offering music services that match regional, consumers and sales channel's needs. The airable.API helps to connect Frontier Silicon modules to current and upcoming music services.
Consumers will not have to switch between different Apps and user interfaces to operate their connected audio and multiroom devices. Navigation and control of the online streaming offerings will be part of the award winning UNDOK App and user interface.
Frontier Silicon offers the complete solution to add streaming audio to connected audio products.
Heiko Meertz, CEO of Tune In: "Frontier Silicon is a market pioneer and plays an active role in the smart audio market. We're glad to contribute to the success of their connected audio platforms."
Prem Rajalingham, Vice-President, Sales and Marketing, Frontier Silicon, said: "Frontier Silicon modules are market leading solutions for smart audio products. Our relationship with Tune In enables us to offer manufacturers an increasing portfolio of streaming audio services."
About Frontier Silicon Limited
Frontier Silicon is the world's leading supplier of technology solutions for digital radio and smart audio products.  Frontier Silicon's audio products offer solutions for DAB/DAB+, Internet Radio and Wi-Fi enabled wireless speakers and soundbars – from silicon through software to production-ready platform designs.  Customers supplied by Frontier Silicon include Bose, Denon, Grundig, harman/kardon, Onkyo, Panasonic, Philips, Pioneer, Pure, Roberts, Sony, TechniSat, Yamaha, and many more.
Frontier Silicon is a trademark or registered trademark of Frontier Silicon Ltd. Other names and brands may be claimed as the property of others.
More Information about Frontier Silicon.
About Tune In and airable:
The way we enjoy media is changing. We decide for ourselves how, when and where we want to listen to music, radio or on demand shows. We consume any kind of media – regardless of time and place. Tune In is addressing this. People at Tune In know and love music, webradio, podcasts, audio on demand and internet media. The airable technology enables Apps and devices to meet the changing and challenging online media expectations of today's consumers. They access the airable catalogues and services via devices of exclusive consumer electronics manufacturers and apps. airable – Tune In GmbH is privately held and was founded in 2010 with offices in Germany and the United States.
Media contact:
Christoph Müllers, info@prmuellers.de, Tel: +49 2839-­‐5683130
airable – Tune In GmbH
Am Treppchen 2
41334 Nettetal
Germany
press@airablenow.com