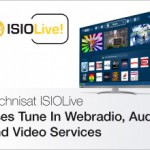 Nettetal, September 4, 2013.
The TechniSat-Group, one of the leading german producer of digital tuner and television sets, headquartered in Daun/Vulkaneifel, has relaunched the service- and entertainment portal ISIOLive on digital tuners and television sets. Not only the look of the portal has changed. Numberous new features and functionalities were added due to the cooperation with Tune In GmbH.
ISIOLive Services now integrate an impressive catalogue of Internet Radio Stations as well as on demand Audio- and Video-Shows are at hand whenever the ISIOLive user requests them. Conveniently selected Apps are easily available by the new user interface, developed by the Tune In Media GmbH.
Though ISIOLive the TechniSat client now has access to about 7.000 worldwide internet radio list with stations from all over the world. Audio- and Video Shows are accessible and sorted by genres like News, Culture, Entertainment, Family, Health, Politics and many more. Curators highlight new shows and stations and present these newly each week.
"With the catalouges of Tune In GmbH we address the growing demand of the clients for new audio, video and app content, which is easily available" summarizes Elmar Möller (assistant director for product management) the benefits. "Particulary comfortable is the search function, which presents results throughout all media offerings and apps."
The Tune In catalouges offer:
Worldwide catalogue of free Video TV and Radio shows
About 10.000 Video / TV Shows in various languages
About 100.000 Audio / Radio Shows in various languages
The 7.000 relevant Radiostations from around the world
Curated shows and editor's suggestions on interesting programs and contents
"We are looking forward to see the whole media catalogue of Tune In GmbH compact and easily accessible in the ISIOLive portal. The thought through TechniSat portal enables the consumer to access audio and video content without struggling and searching though numerous Apps. Consumers discover relevant audio-, video-, TV- and radio-content at a one stop source." says Heiko Meertz, managing director of Tune In GmbH