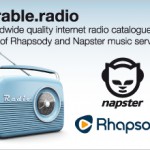 Leading music service Rhapsody and it's subsidiary Napster have integrated the airable.radio service of German Tune In GmbH. Rhapsody and Napster serve more than 32 countries with their premium music subscription service. In addition to the world's most comprehensive online music collections, Rhapsody and Napster now offer access to more than 20,000 internet radio stations. This world spanning radio catalogue is part of the 'channels' offering in Rhapsody and Napster's mobile apps.
"Our airable.radio service offers both, well known radio stations as well as smaller 'niche' offerings of many different music genres," says Heiko Meertz, CEO and Founder of Tune In GmbH. "The way Rhapsody and Napster enable enjoying music is the future. We're glad to give internet radio stations access to this growing audio platform to give the consumer more choices to fit their listening style. It's important that radio is part of it."
Thorsten Schliesche, VP Sales & Marketing Europe, Rhapsody International said, "airable.radio is the best quality catalogue and reliable service for internet radio. Their teams in Europe and US know the local markets, tailor the offerings and meet the consumers' expectations. They absolutely meet our quality and service expectations."
airable.radio will be used in selected Rhapsody and Napster products from January 2014 onwards.
About Napster
Napster is one of the world's leading premium subscription digital music services. Owned and operated by U.S.-based Rhapsody International Inc., Napster combines the iconic history of one of the most recognizable digital music brands in the world with the vast experience and technological platform of the first subscription music service, Rhapsody. Napster offers one of the world's most comprehensive online music collections and provides access to your music anywhere, via hundreds of devices. Rhapsody, Napster, and their respective logos are trademarks or registered trademarks of Rhapsody International Inc. For more information, visit www.napster.com.
About Rhapsody International
Rhapsody International is the parent company of leading streaming music services Rhapsody and Napster. Now available in 32 countries across the U.S., Europe and Latin America, Rhapsody and Napster give members ad-free access to more than 32 million songs. Whether they're listening on their phone, at home, at work, or in the car, Rhapsody and Napster go where our members go. Our expert team of editors creates a curated music experience that makes it easy for members worldwide to gather and enjoy new original content including videos, playlists, reviews, and radio stations — anytime and anywhere. Follow @Rhapsody on Twitter and keep up with the latest on the Rhapsody Facebook page.
About airable and Tune In:
The interconnectedness of our world is changing the way we consume media. We decide for ourselves how, when and where we want to watch and listen to TV or radio. We consume any kind of media – regardless of time and place. Tune In knows where to find these shows, podcasts, video- audio shows, radio stations. The airable catalogues with countless media sources from around the world facilitates this kind of on-demand self-service. Curators and editors suggestions, intelligent sorting, search functions and recommender systems track down stations, shows, content, topics and other items. Users can access airable catalogues and services on products of Rhapsody, Napster, Medion, Loewe, TechniSat, Burmester, appsolute. airable and Tune In GmbH was founded by Heiko Meertz, Nettetal (Germany) in 2010.
Press contact:
Christoph Müllers
info@prmuellers.de
Tel: +49(0)2839—5683130