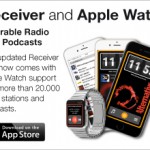 airable client and app specialist ́appsolute GmbH ́ today released a new version of its Receiver App and added new features. Receiver App Version 2.1 now turns Apple Watch into a radio with more than 22.000 worldwide radio stations out of the airable catalogue. These radio stations are sorted by genre, country, language and popularity. They can be navigated and controlled on the Apple Watch.
Another new feature of Receiver App is the airable podcast catalogue which includes more than 20.000 on demand shows. Sorted as well by genre and country, this huge media catalogue provides news and comedy shows, documentaries, tutorials, language courses and many more from top broadcasters like ' NPR, BBC, and ARD.
Users decide on their own when and where to pick a show, independent of programming or EPGs.
Receiver App is available for 0.99 USD / 0.99 EUR in the iTunes App Store. The update is free of charge for existing clients.
Receiver features:
– Apple Watch Support
– More than 22.000 Radio Stations
– More than 20.000 On Demand Shows / Podcasts
– Playback of internet radio stations and shows
– Playback of locally stored music
– Alarm Clock
– Sleep Timer
– Weather Information
– Twitter Timeline
– Station listing sorted by
Genre
Language
Region / Country
Local Stations
Favourites
On demand show listing sorted by
Genre
Language
Station
Press contact:
Christoph Müllers
info@prmuellers.de
Tel: +49(0)2839—5683130