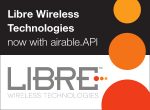 Libre's LS9 of media streaming platform now has the airable.API fully implemented and certified. Adding airable.API to the Libre platform now offers airable's internet radio, podcast catalogues and music services that are integrated through the airable.API.
The airable.API enables smart speakers and audio systems based on Libre's platform to address consumers need for streaming services and up to date radio and podcast content. The standardized airable.API and processes along with the LS9X platform guaranty a reduced time to market for new products of airable licensees, while keeping maintenance and updates at a low level during lifetime of the product.
airable keeps the radio and podcasts catalogues up to date and continuously adds streaming music services as the market requires. Having music services available through airable.API in the Libre platform has the advantage of having the consumer to use one user interface and App instead of switching from App to App.
Manufacturers and developers of audiophile products contact Libre here.

About Libre Wireless Technologies
Libre Wireless Technologies is a leading provider of WiFi and Wireless technologies for IoT, media streaming, voice interface and AI applications. Libre delivers comprehensive embedded hardware and software SDK solutions that are scalable across ecosystems, features, power and price. Libre offers a range of approved and certified electronic modules and devices along with extensive software that can manage virtually all aspects of system, voice, connectivity and cloud features. Libre offers the world's smallest, lowest power complete mic-to-cloud voice/AI solutions in single devices enabling all new portable, wearable, CE and industrial applications. The Libre solutions provide ODM's, CE Brands and commercial product designers the most complete, flexible and ecosystem leading technology available for fastest time to market and superior product differentiation.