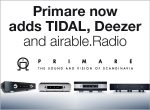 Sound and Vision of Scandinavia: Primare's network-enabled digital devices* now are connected to music services Deezer and TIDAL through Primare's AIR app. AIR completes Primare's suite of digital playback offerings, making it easy to enjoy to the fullest today's digital listening offers. Connecting award winning Primare products to streaming services is achieved by integrating Tune In's airable.API technology.
"The airable.API reduced time to market and simplified the validation of music services. It helps maintaining music services and gives us the flexibility to react to future market trends", says Kalle Nordehammar, AIR Project Manager at Primare.
Heiko Meertz, CEO of Tune In GmbH: " it's great to see our technology and radio catalogue integrated into Primare's High End streaming devices, making Deezer and TIDAL music accessible so easy and convenient."
airable.API
Acting as an abstraction layer, the airable.API makes adding streaming services and internet media to hardware devices simple. It connects devices to Deezer, TIDAL and to Tune In's own internet radio and podcast catalogues. Updates of online services and possible new compelling offerings can be managed by the powerful and flexible airable.API technology.
airable.Radio
More than 30.000 worldwide radio stations are included in Tune In's airable.Radio catalogue. This vast offering is sorted by region, genre, hit lists and quality. Tune In's team of editors make sure the catalogue is well maintained, kept up to date and new stations are constantly and quickly added providing an unlimited source of freely accessible music, news and entertainment on Primare's connected devices.

* Supported products include the NP30 network player, MM30 media board, installed in either the I32 integrated amplifier or the PRE32 preamplifier, and the PRE60 reference preamplifier. For more info go to primare.net
About Primare
For thirty years, Primare, based in southern Sweden, has been designing and producing award-winning hi-fi components that bring the Scandinavian attributes of honest integrity and timeless design to a global audience. Every Primare product reflects a commitment to Scandinavian ideals such as lagom – the sense of true satisfaction that comes from balance and harmony. Not too much. Not too little. Just right. With a modular, environmentally conscious approach that complements core values of lasting quality, ease of use, and deeply satisfying performance, Primare effortlessly delivers today's ever-expanding music and visual experiences in all their richness and variety, whether the source is analog or digital, wired or wireless, stored or streamed. Primare – the sound and vision of Scandinavia.
Media Contact:
Terry Medalen at terry@primare.net
About Tune In and airable
The way we enjoy media is changing. We decide for ourselves how, when and where we want to listen to music, radio or on demand shows. We consume any kind of media – regardless of time and place. Tune In is addressing this. People at Tune In know and love music, webradio, podcasts, audio on demand and internet media. The airable technology enables Apps and devices to meet the changing and challenging online media expectations of today's consumers. They access the airable catalogues and services via devices of exclusive consumer electronics manufacturers and apps. airable – Tune In GmbH is privately held and was founded in 2010 with offices in Germany and the United States.
Media contact:
Christoph Müllers, info@prmuellers.de, Tel: +49 2839-­‐5683130
airable – Tune In GmbH
Am Treppchen 2
41334 Nettetal
Germany
press@airablenow.com