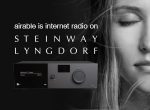 Steinway Lyngdorf, founded on research and forward-thinking, continues to achieve advances in sound technology for music systems and sound processors. For availability of internet radio stations in a worldwide catalogue, Steinway Lyngdorf is partnering with airable. It's best in class hardware now benefit from a best maintained 'always fresh' catalogue of more than 70.000 radio stations worldwide, sorted by genres, language, origin, etc.

"airable is known – both in the hardware industry and at broadcasters – for their accurate and most up to date radio catalogue, richness in meta data and passionate team of editors. Best choice for us!" Says Thomas Birkelund, CEO/CTO of Steinway Lyngdorf. "We're honored to see airable internet radio integrated to Steinway Lyngdorf products. Working with their team was a breeze and we love the products." as Heiko Meertz, CEO of airable GmbH says.
About Steinway Lyngdorf
Headquartered in Skive, Denmark, and founded by Peter Lyngdorf in 2005, Steinway Lyngdorf is driven by a consuming passion to create the finest products in the audio industry. The company is a visionary collaboration that marries Steinway & Sons' craftsmanship, heritage, and striking design with Steinway Lyngdorf's groundbreaking technologies, engineering, and innovative genius. The result is the development of products that are without compromise and without precedence. Focused on the design and manufacture of high performance digital audio systems for music and movie connoisseurs. From the smallest electronic component to the grandest speaker, every product from Steinway Lyngdorf is pure perfection. Products are the only audio products in the world qualified to bear the Steinway & Sons brand.
About airable:
The way people enjoy media is permanently changing. We decide how, when and where we listen to music, radio or on demand shows. We consume any kind of media –regardless of time and place. airable is addressing this. People at airable know and love music, webradio, podcasts and streaming. The airable services enable Apps, devices, cars to meet the changing and challenging online media expectations of today's consumers. Making online media available on devices, the airable API and services give access to the market leading airable radio and podcasts catalogues and several music services.airable is privately held, started in 2010 and is now a dedicated team is working from offices in Germany, United States and Asia. The airable internet radio catalogue contains more than 70.000 radio stations worldwide, 70.000 podcasts. The airable API enables access to the market leading music services. About 9 Mio devices rely on the airable catalogues and API.