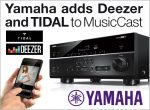 Yamaha announced that it supports the music and entertainment services, TIDAL & Deezer. These services will be available on all 2017 released Yamaha network AV receivers from the 83 series alongside on other MusicCast wireless multiroom audio products via a future firmware update. For more details on specific models being announced, please see the Yamaha Website here.
In August 2015 Yamaha announced the MusicCast multi-room system, uniting Hi-Fi and home theater performance with wireless multiroom simplicity. Yamaha MusicCast products range from wireless speakers to soundbar for TV, home cinema amplifiers, wireless streaming amplifiers and Hi-Fi receivers. Offering an extremely diverse range of performance levels, price points and listening experiences from which to choose. Yamaha continues to be at the forefront of technology, providing innovative features that serve the changing demands of consumers around the world.
The integration of Tidal & Deezer within Yamaha products will provide customers with access to the almost endless music archive that Tidal & Deezer has to offer with seamless music enjoyment with Yamaha's legendary Natural Sound, users can expect to get the highest-quality audio playback from their network audio products.
Along with this update, the Internet Radio and Podcasts catalogues airable.Radio and airable.on-demand are added to the specific models. Both catalogues provide a compelling offering of worldwide internet radio stations and podcast listing.
TIDAL and Deezer were integrated with the support of the airable.API and airable Services.

About Yamaha:
Yamaha's history began when its founder, Torakusu Yamaha, repaired a broken reed organ in 1887. Shortly thereafter, he successfully completed the first reed organ to be built in Japan.
Since then, Yamaha has continued to produce high-quality products by blending traditional craftsmanship with advanced digital technology. The quality of sound produced by a Yamaha musical instrument reflects the long years of accumulated technical expertise and the skilled craftsmanship of the Company.
With Yamaha's unique expertise and sensibilities, gained from devotion to sound and music, the Group is committed to creating excitement and cultural inspiration together with people around the world.
About Tune In GmbH:
The way we enjoy media is changing. We decide for ourselves how, when and where we want to listen to music, radio or on demand shows. We consume any kind of media –regardless of time and place. Tune In is addressing this. People at Tune In know and love music, webradio, podcasts, audio on demand and internet media. The airable technology enables Apps and devices to meet the changing and challenging online media expectations of today's consumers. They access the airable catalogues and services via devices of exclusive consumer electronics manufacturers and apps. airable – Tune In GmbH is privately held and was founded in 2010 with offices in Germany and the United States.
Media contact:
Christoph Müllers, info@prmuellers.de, Tel: +49 2839-­‐5683130
airable – Tune In GmbH
Am Treppchen 2
41334 Nettetal
Germany
press@airablenow.com