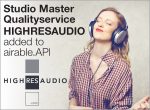 Exclusively true and genuine 24bit is the focus of HIGHRESAUDIO. The service of the Berlin / Hamburg based company is now accessible by the airable.API. Audiophiles, music-lovers and manufacturers will appreciate the availability of untouched and pristine music quality without any up-sampled or technical manipulated content. It becomes a standard offering of the airable.API and service, minimizing the effort of implementation and maintenance for the high-res audio hardware industry.
About HRA – HighResAudio
High-Resolution Audio Streaming par excellence. Experience a unique, full of dynamics and realistic sound reproduction. Feel and hear your music like never did before. HRA-Streaming is the easiest way to rediscover and discover new music. We offer you an extensive music experience: for the Classical, Jazz and Mainstream listeners. The  goal: to offer you with our competence, creativity and commitment a first-class music service offside the mainstream.
HRA Streaming is an commercial-free, audiophile and high-resolution music streaming service in exclusively 24-bit (HiRes Audio) supplemented by extensive editorial expertise of experienced and well-known German music journalists. HRA Streaming grants access to the entire music archive of over 35,000 handpicked and carefully selected albums from the HIGHRESAUDIO platform. On average, over 120 albums are added each week to our archive. We offer you two HRA-Streaming option: HRA-Streaming and HRA-Streaming + Album Download at a permanent discount rate. The customer receives a 7-days trial period. The airable.API also includes VirtualVault: HIGHRESAUDIO offers native HighRes music-streaming from the companies Digital Locker called "VirtualVault". "VirtualVault" is a user-interface between the user account and the music archive at HIGHRESAUDIO. The user has access to the already purchased music at HIGHRESAUDIO. Without downloading the music, the user can stream directly his music in HighRes quality up to 192kHz from the "VirtualVault".
"Spirit, determination and passion are what distinguish the best from the good. It is this quest for perfection that makes HIGHRESAUDIO the only serious choice." says, Lothar Kerestedjian CEO HIGHRESAUDIO
Link to HighResAudio: HRA
HighResAudio:
Designed, edited and operated in Berlin and Hamburg, Germany, HIGHRESAUDIO is the first commercial music download and streaming service for audiophiles offering only music recordings in high-resolution audio standard at 24-bit using the FLAC codec. The selection and offerings are available worldwide depending upon the licensing and territorial agreements with the license holders. Available are only albums that are fully tested, analyzed and verified of its true origin and native sampling rate from 44.1kHz up to 384kHz. HIGHRESAUDIO doesn't offer any up-sampled, technically manipulated and tweaked recordings. Goosebumps guaranteed!
About Tune In GmbH:
The way we enjoy media is changing. We decide for ourselves how, when and where we want to listen to music, radio or on demand shows. We consume any kind of media –regardless of time and place. Tune In is addressing this. People at Tune In know and love music, webradio, podcasts, audio on demand and internet media. The airable technology enables Apps and devices to meet the changing and challenging online media expectations of today's consumers. They access the airable catalogues and services via devices of exclusive consumer electronics manufacturers and apps. airable – Tune In GmbH is privately held and was founded in 2010 with offices in Germany and the United States.