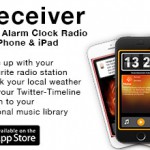 The 'appsolute' Internet Radio App and Alarm Clock for iOS
The Internet-Radio-Music-Player-Alarm-Clock-easy-to-use-App 'Receiver' now is available for iPhone and iPad. App specialist appsolute GmbH and internet media specialist Tune In GmbH have combined their experience, ideas and resources to create an app that's both, simple to use and full of possibilities. It needs just a few taps to listen to radio stations from all over the world with music genres of all flavours. Receiver comes with all sorts of music, news, culture, and niche radio channels. If the thousands of radio stations are not enough (or maybe too much), receiver gives access to the locally stored music and works as a comfortable music player.
Receiver's alarm clock starts the day with your favourite radio station or favourite songs. It accompanies you during the day with local weather information and your twitter timeline.
Receiver is available in Apple's app store at 0.99 € / 0.99 USD
Receiver features:
About 20,000 radio stations worldwide
Twitter Timeline
Weather Information
Sleep Timer
Alarm Clock
Playback of locally stored music
Playback of internet radio stations
Station listing sorted by
Genre
Language
Region / Country
Local
Stations
Favorites
Holger Meyer, founder and managing director of appsolute GmbH: "Since a while we had these ideas for receiver on our list. Combining music player, internet radio, alarm clock, and sleep timer just makes so much sense. We are using the app by ourselves almost all day long and the integration of the Twitter timeline and weather forecast seemed just natural. We're very experienced in the area of internet radio but we were missing a reliable partner to supply us with the right catalogue. Now with airable of Tune In GmbH we found that partner and profit from their enormous know how in this area."
"I'm glad to see that our airable radio catalogue now is available on iPhones and iPads as well. We built that new internet radio catalogue version during the last months in cooperation with radio stations and with our editorial team in the US and Germany. All fresh and new so to say" states Heiko Meertz, founder and managing director of Tune In GmbH. "Our services and catalogues of internet media are already used on products of e.g. Medion, Burmester and TechniSat.
Press contact:
Christoph Müllers
info@prmuellers.de
Tel: +49(0)2839—5683130