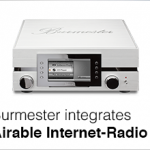 Berlin / Nettetal, September 2014
Premium high end audio maker Burmester of Berlin is using the airable.radio internet radio service in selected products. Worldwide more than 16.000 stations are now available on these leading edge products. Sorting by genre, location or language makes browsing this massive offering a breeze. Well known radio stations are included as well as specialized, small and good stations from any corner of the globe. Logo, title, genre of each station is visible to enhance the visual user experience.
airable.radio is the internet radio service of the german Tune In GmbH. The service is especially designed for device makers and software companies. Flexibility in adjusting features and offerings lead to a quick customization for Burmester's great products.
Dipl.-Inf. Andreas Lutomsky, Technical Director at Burmester: "Tune In is flexible in addressing our needs and delivers a top notch quality internet radio service. Our wishes were integrated quickly and we're happy to have a reliable, focussed partner for our internet radio needs."
"We're happy to see the airable.radio service on selected Burmester products, contributing to the joy and diversity of quality music." says Heiko Meertz, Managing Director Tune In GmbH.
About Burmester:
Since 1977 Burmester Audiosysteme has been manufacturing high-end audio components of unsurpassed quality. From the very beginning the objective has been to create a perfect blend of highest-quality sound, technological innovation and timeless design.
Highly trained technicians assemble all Burmester components by hand in its Berlin factory. Because "Made in Germany" is a label that is taken very seriously by Burmester.
Burmester's research and development department constantly strives to not only keep up with the latest advances but to set its own trends and standards.
From the first design sketch via a number of prototypes to the final product shipped from the Berlin factory: each component that bears the Burmester name has been developed in its entirety in-house.
As an audio pioneer, Burmester has created a number of legendary components that have become icons of the high-end audio universe.
About airable – Tune In:
The interconnectedness of our world is changing the way we consume media. We decide for ourselves how, when and where we want to watch and listen to TV or radio shows and consume any kind of media – regardless of time and place. Tune In knows where to find these shows, podcasts, vodcasts and any other content. The Tune In catalogue, with its countless thousands of shows from around the world facilitates this kind of on-demand self- service. Editorial suggestions, intelligent sorting, search functions and recommender systems track down shows, content, topics and other interesting things including content offered by niche providers, such as schools, universities, organisations, clubs and associations. That's what Tune In calls the 'long tail of content'. Users can access the Tune In catalogue and Tune In's services via the Fetch Up Apps as well as via devices from exclusive consumer electronics manufacturers. Tune In GmbH was established by Heiko Meertz in Nettetal (Germany) in 2010.
Press contact:
Christoph Müllers
info@prmuellers.de
Tel: +49(0)2839—5683130