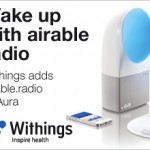 Withings – Aura Connected Alarm Clock
Unlimited music to wake, sleep… or dance to: Connected health pioneer Withings integrated the airable.radio catalogue into the Aura connected alarm clock. Consumers have the choice out of more than 20.000 radio stations to weak up or snooze. Different alarms for each day of the week help exploring the rich choice ;-).

Stations to play on Aura are selected by the companion app Health Mate.
See Aura's website for details.