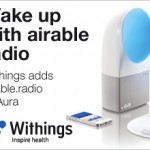 Withings, the leader in the connected health revolution, adds internet radio functionality to the Aura products.
Withings Aura™ is designed to monitor and improve sleep quality and offers a Smart WakeUP function that adapts the timing of wake-up to the personal body clock. Its gentle wake up light and sound program now offers playback of internet radio stations.

Radio Stations easily accessible
Now users can preselect stations out of the compelling airable internet radio catalogue and wake up by the sound of their favorite radio stations.
Best in Class Radio Catalogue
Stations from all over the word and from any music genre: Radio without limits. The Withings Health Mate Aura App delivers stations from all over the world, of any radio genre or music style. Users select stations as they prefer and wake up with News, Talk, Rock, Jazz, Electro or any style they prefer. The comprehensive radio offering is easily navigated by genre, location and language.
Available for new and already installed Withings Auras
The internet radio feature will be available for all Withings Aura users. Simply by updating the Health Mate Aura App.
"We're delighted to see the airable.radio catalogue in Aura products. As market leader, Withings really focuses and drives the user experience with this great internet radio function." says Heiko Meertz, CEO of airable-Tune In.
Alexis Arquilliere, Product Manager at Withings: "Internet radio is an important media. Consumers listen to radio especially in the morning. We're happy to offer this great new feature to our Aura clients. Adding internet radio by airable went really well. Integration was quick and very efficient. The airable team is extremely supportive."
Availability:
The update of Health Mate Aura App is available in September 2015 in the Apple App store:

---
Further Information:
https://www2.withings.com/ca/en/press
http://www2.withings.com/eu/en/products/aura/
Media contacts:
Christoph Müllers,
F: +49 2839-­‐5683130
airable – Tune In GmbH
---
About airable:
The interconnectedness of our world is changing the way we consume media. We decide for ourselves how, when and where we want to listen radio shows or watch TV shows and consume any kind of media – regardless of time and place. airable – Tune In knows webradio stations , TV shows, podcasts, video- audio shows, and any media. The airable catalogues with its countless media sources from around the world facilitates this kind of on-demand self-service. Curators and editors suggestions, intelligent sorting, search functions and recommender systems track down radio stations, shows, content, topics and other interesting things. Consumers access the airable catalogues and services via devices of exclusive consumer electronics manufacturers and apps. airable – Tune In GmbH was founded in 2010 and has offices in Germany and US.
---
About Withings:
Withings is the company that leads the connected-health revolution. Founded by visionary innovators Cédric Hutchings and Eric Carreel, Withings creates products and services that empower people to track their lifestyles and improve their everyday well being for better long- term health. Emotional, flawlessly designed and simple-to-use, they seamlessly introduce cutting-edge innovation into people's daily routine. Since 2009, Withings has built a range of products that covers the whole health spectrum including the Withings Pulse (activity tracker), the Smart Body Analyzer, the Wireless Blood Pressure Monitor and Withings Aura. Every piece of collected data comes to life into the Withings Health Mate application where users get coaching and motivation tools to shape every aspect of their health.