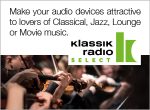 Make audio devices addictive to lovers of Classical, Jazz, Lounge or Movie music!
Add Klassik Radio Select to your products. It is now available through airable API.
Klassik Radio Select is the streaming service of Klassik Radio, for years the most listened classical music program in Germany.
A Klassik Radio Select subscription offers easy access to music for every situation. Whether classical, lounge, jazz or film music: discover over 200 playlists curated by experts. Free of advertising with a subscription.

Klassik Radio Select is available though the airable.API (Version 2022) and is quickly added to Hifi Systems, Streamers, Smart Radios, wireless speakers, etc. that are already – or soon will be – airable enabled.

Try Klassik Radio Select here: https://play.klassikradio.de/ 

Contact airable to get Klassik Radio Select on your products.