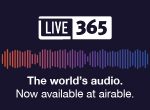 Live365 stations are now available on airable enabled products
Live365, a pioneer in internet radio broadcasting, and airable are proud to announce that the Live365 streaming radio network is now available through the airable radio catalogue. This makes the amazing programming that Live365 stations are known for accessible to millions of listeners around the world in almost any country through airable enabled devices.
Live365 stations are now available on Smart radios, Hi-Fi-systems, receivers, TV boxes, multi-room systems, home entertainment systems, and Smart home installations that use the airable catalogue and technology.
« We are delighted to work closer with the Live365 team, making their stations available to a wider audience and more product platforms. » says David Litt, VP Product Management at airable.
Jason Stoddard of Live365 : « We're excited to expand our distribution offering to our thousands of stations and bring their diverse selection of music and discussions to airable-enabled products. It makes perfect sense to plug into airable's network to make Live365 stations even more widely accessible. We're proud to work with airable on this perfect fit. »

Originally launched in 1999, Live365 has been innovating the internet radio and broadcasting space since its inception. Relaunched in 2017, Live365, a SoundStack company, is the easiest way to create an online radio station and discover thousands of stations from every style of music and talk. Live365's end-to-end broadcast platform empowers individuals and organizations alike by giving them a voice to reach audiences through easy-to-use audio tools and services, as well as licensing coverage, monetization options, and distribution opportunities.
Airable is a German based company with an international team of media and IT specialists. The company started in 2010 and quickly became a reliable B2B service provider for major brands in Consumer Electronics, Hi-Fi, and Telecommand smart home markets.
The airable internet radio catalogue contains more than 70.000 radio stations worldwide, 70.000 podcasts. The airable API enables access to the market leading music services. About 9 Mio devices rely on the airable catalogues and API.