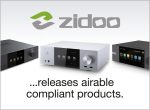 airable enabled on Zidoo product lineup
Zidoo Technology releases a lineup of new HiFi products with improved streaming capabilities. A bouquet of premium music streaming services and internet radio is available on Zidoo HiFi units like NEO S, NEO X, NEO Alpha, and EverSolo DMP series. Their premium audio capabilities complement the lossless content available through TIDAL, Qobuz and HIGHRESAUDIO. These are natively implemented through the airable API along with the airable internet radio catalogue.

Zidoo products come with an OLED touch screen that can control Zidoo NEO series with great ease. The controlling apps for Android and IOS bring the capability to fully control NEO series products and browse internet radio, local available music libraries as well as the high-quality music service content on TIDAL, Qobuz and HIGHRESAUDIO.
We believe these products will achieve great success in the European and North American markets." says Mirror , CMO of Zidoo. Johannes Nethen, Product Manager at airable: "It was a pleasure working with the Zidoo team adding the airable API and internet radio and premium music services to their products. Adding these new features was done in record breaking speed and quality. Really amazing and I'm happy to see these products in China, US and Europe soon!"
About Zidoo
Founded in 2014, Shenzhen Zidoo Technology Co., Ltd (also known as Zidoo) is a team that employs more than 40% software and hardware R&D personnel and owns a supporting service factory with multifield technology. It is the leading developer of ARM multi-core architecture industrial and consumer electronics, specializing in the manufacturing of audio and video products such 4K UHD media players, DACs and streamers. More than 80% of products are exported to Southeast Asia, North America, and Europe. With its strong software and hardware development capability and more than ten years of technology accumulation, Zidoo has launched a lineup of highend audio and video products with good performance. Numerous software and hardware invention patents are issued to the company. Especially NEO series has been highly recommended by prestigious audio experts, magazines and forums worldwide. Currently, Zidoo has one million users worldwide, and the company has expanded to more than 60 nations and regions, holding a significant market share in the sector.www.zidoo.tv 
About Eversolo
Eversolo Audio Technology Co.,Ltd (Eversolo Audio) is invested by Zidoo Technology Co.,Ltd. The core founding team members have engaged in the development and management among HiFi industry for many years. The R&D team covers audio decoding, analog audio, acoustic tuning, system integration etc. The main business includes streamers, HiFi DAC and amplifiers.www.eversolo.com
About airable
The way people enjoy media is permanently changing. We decide how, when and where we listen to music, radio or on demand shows. We consume any kind of media –regardless of time and place. airable is addressing this. People at airable know and love music, webradio, podcasts and streaming. The airable services enable Apps, devices, cars to meet the changing and challenging online media expectations of today's consumers. Making online media available on devices, the airable API and services give access to the market leading airable radio and podcasts catalogues and several music services.airable is privately held, started in 2010 and is now a dedicated team is working from offices in Germany, United States and Asia. The airable internet radio catalogue contains more than 70.000 radio stations worldwide, 70.000 podcasts. The airable API enables access to the market leading music services. About 9 Mio devices rely on the airable catalogues and API.