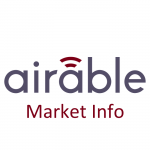 2020 has been a year of change for many of us as individuals and for industries, not least, the impact COVID-19 has had on our lives. However, there is a positive to be found in most situations and, if we take 2020 as a whole, there are unmistakable signs of optimism to be found in the music livestreaming market.
Many musicians whose live concerts and tours were cancelled due to COVID-19 have turned to Twitch as an alternative to keep their fan base and to help them survive, financially. More well known artists have preferred to use Instagram but indie artists are using Twitch because it allows more flexible subscription and donation tiers. According to The Verge, "For now, the musicians say Twitch is only recouping a fraction of lost funds, but they believe it will become more sustainable. And many say they intend to maintain their Twitch presence when things go back to normal."
Source: www.theverge.com
https://www.theverge.com/2020/3/19/21185220/tours-canceled-musicians-marc-rebillet-twitch-livestreaming-coronavirus
Shortly after the start of the COVID-19 pandemic Eric Frankenberg of Billboard, wrote an article (based on data from more than 8,000 live streams listed on bandsintown.com): "In the first week of tracking, between March 25-31, 1,987 livestream listings were created on the Bandsintown website. The following week, April 1-7, saw a surge of 21% to 2,413 new events…". Just "two days into week four, 480 new livestreams were created, the highest daily count since Bandsintown began tracking livestreams on their site." Apparently, in slightly less than one month, there were 8,244 music livestreams.
Source: www.billboard.com – by Eric Frankenberg, 20 April 2020
https://www.billboard.com/articles/business/chart-beat/9360625/livestream-data-surging-online-activity-venues-closed-coronavirus
The increasing use of live streaming concerts and other music events, appears to be a recurring trend around the world.
In Italy, for example, earlier this year the Teatro La Fenice in Venice hosted the Dafne string quartet. However, instead of a live audience of over 1,000 people, the seats were empty as the quartet played and a livestream was broadcast to people watching from their homes. Other Italian classical musicians, such as The Symphony Orchestra of Giuseppe Verdi (Milan) also changed to livestream concerts.
Source: dw.com – Torsten Landsberg, Sertan Sanderson, 12 March 2020
https://www.dw.com/en/culture-in-the-time-of-coronavirus/a-52739306
Before COVID-19, many Italians that had previously frequented free music concerts started to watch livestream concerts from their homes during the lockdown period. The graph below shows that there was an increase from 7% to 28% (of those surveyed) who watched either a recorded or a livestream event online.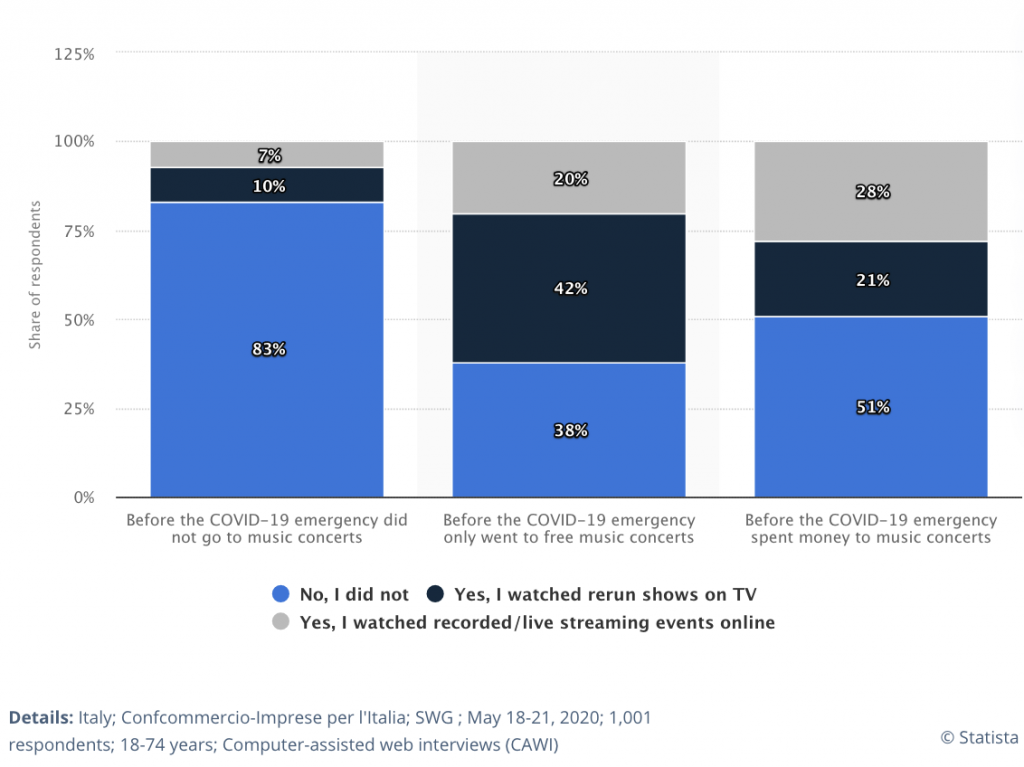 Source: Statista Research Department, 14 September 2020
https://www.statista.com/statistics/1130767/italians-watching-music-concerts-online-or-on-tv-during-the-lockdown/)
In the U.K., according to Kerrang!, the O2 Academy in London is also looking to broadcast livestream concerts but with a difference. "As the industry looks at new ways to bring fans a dose of much-missed live music during the coronavirus pandemic, Melody VR and Live Nation have announced a pretty cool partnership to deliver gig-goers 360° virtual reality gigs from London's iconic O2 Academy, Brixton.
Using virtual technology, 'Live from O2 Academy Brixton' will feature bespoke performances from artists, with fans even able to choose where they watch the show – including on stage."
Source: Kerrang! – 9 July 2020
https://www.kerrang.com/the-news/londons-o2-academy-brixton-announce-360-virtual-reality-concert-series/
About Melody VR: Crossing the bridge to music streaming, subscription and on demand music, Melody VR acquired Napster, the digital music pioneer in Summer 2020. A great and smart combination of immersive live music experiences and on demand streaming!
Source: Tech Crunch https://tcrn.ch/3hDVrYE
Writing in mid-December 2020, Roisin O'Connor of The Independent (U.K.) , focussed on a charity concert being given by Louis Tomlinson that sold more than 160,000 tickets worldwide. In Louis Tomlinson's words, he "…was absolutely gutted to have to postpone my world tour this year… Performing for a live crowd is the most important thing to me, this livestream is a step back into that world…" Tomlinson's show marked the biggest male solo artist livestream of the year.
Source: www.independent.co.uk – Roisin O'Connor, December 2020
https://www.independent.co.uk/arts-entertainment/music/news/louis-tomlinson-livestream-charity-tour-b1773620.html
In Germany, fans of Bizet's Carmen were able to see the opera livestreamed on the opera house's website from the Staatsoper in Berlin. "During the performance we could see that people had tuned in from around the world, about 160,000 in total, which is a staggering figure for us…".
Source: theguardian.com – Kate Connolly, 16 March 2020
https://www.theguardian.com/world/2020/mar/16/sending-love-german-music-venues-emptied-by-covid-19-livestream-concerts
Statista's Joseph Johnson commented on a survey in June 2020. "A survey carried out in European countries during the 2020 Coronavirus lockdown asked festival-goers about their opinion on live music streams. Sixty percent claimed to have had already watched at least one live music stream during lockdown while 58 percent said they would happily pay to do so, either through ticket purchase or donations." Note: 110,000 plus festival-goers were surveyed from countries including the UK, France, Germany and The Netherlands."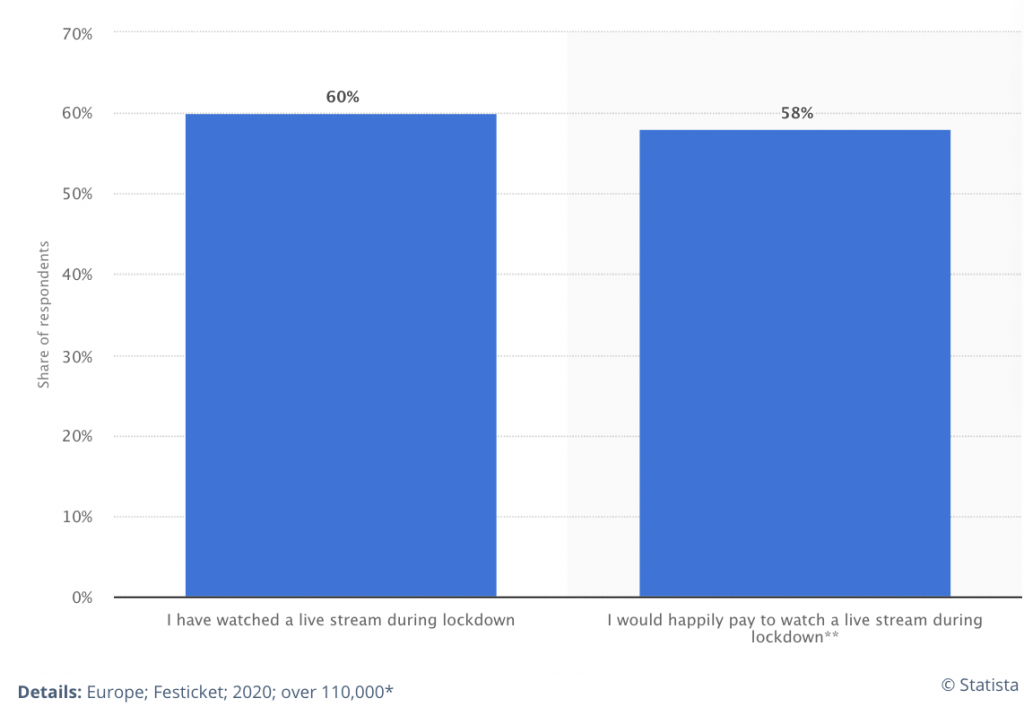 Source: statista.com – Joseph Johnson, 3 June 2020
https://www.statista.com/statistics/1121434/live-music-streams-coronavirus-lockdown-europe/
As in Europe, U.S. audiences also searched for alternatives. The need to be entertained from the home environment led to more people using online streaming to satisfy this need. In April 2020, an online survey showed that 24% of 30-49 year olds watched a livestreamed concert or play in that month.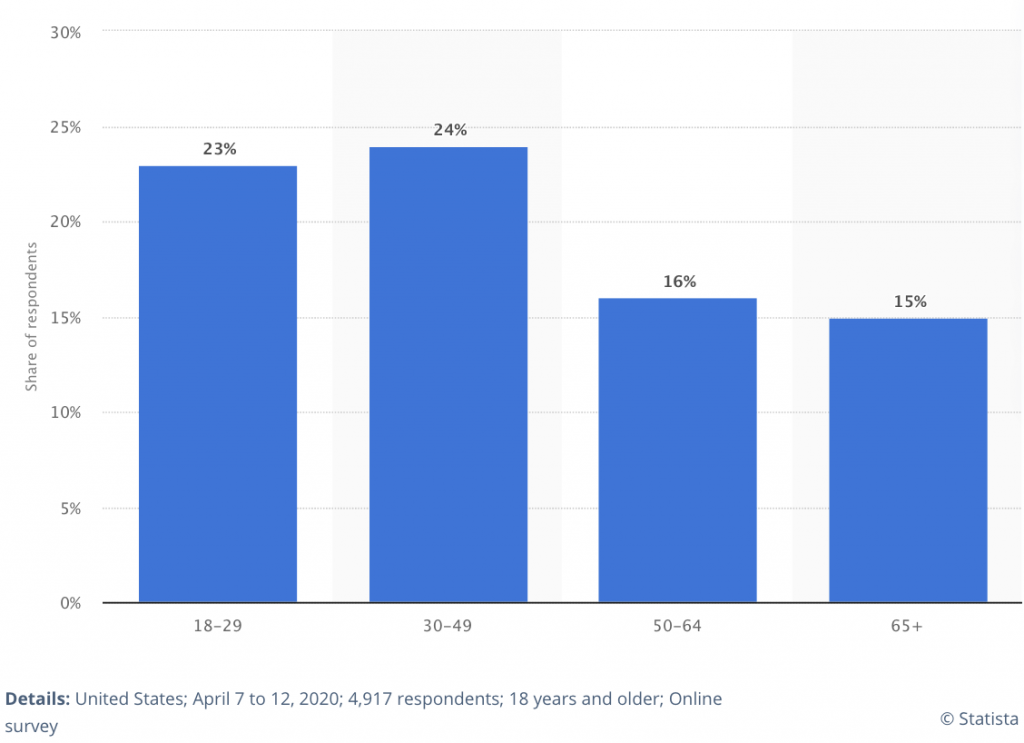 Source: statista.com – Statista Research Department, 26 November 2020
https://www.statista.com/statistics/1170837/concert-or-play-online-viewing-coronavirus-us/
John Petrocelli, a leader in the online video industry, published an interesting article on "The Future of Virtual Concerts in 2020". Like others, he mentions the cessation of tours and live concerts and the need for musicians and artists to adapt by producing livestreamed events. According to Petrocelli, Facebook and Instagram report 800 million people per day watching live streams. He also states that "Twitch set a record for April with over 1.6B hours of live content consumed but…. that 17 million of those hours were live music streams, a relatively new genre on the Twitch platform. The trend is projected to continue with 74% of live stream viewers saying they'd continue to watch live streams even after concerts returned…"
Source: John Petrocelli, Founder and CEO, Bulldog DM, 11 June 2020
https://www.linkedin.com/pulse/future-virtual-concerts-2020-john-petrocelli/
Livestreaming of music with the addition of virtual reality (VR) is a growing shift in the way in which entertainment is being offered. It is making the events more participative for audiences hungry for physical attendance at concerts and shows.
In August 2020, MelodyVR bought Napster (pioneers of music streaming). MelodyVR specialises in filming and streaming live events for fans to watch with VR headsets. The company is only two years old but COVID-19 has boosted its growth considerably as many people have turned to online streaming. Anthony Matchett, Chief Executive of MelodyVR said "MelodyVR's acquisition of Napster will result in the development of the first ever music entertainment platform which combines immersive visual content and music streaming…".
Source: The Guardian – Mark Sweney, 25 August 2020
https://www.theguardian.com/music/2020/aug/25/napster-sold-british-startup-melodyvr-surprise-deal
Another take on the role that VR is having on the livestreaming market is that of TIDAL's acquisition of 'SENSO Tokens` issued by Sensorium Corporation. These tokens are
the 'in-world' currency of Sensorium Galaxy, a new VR 'social metaspace' where users can attend alternate-world concerts, nightclubs and festivals. The idea behind this is that through a VR headset, users are able to explore the worlds within the Sensorium Galaxy – socialise and interact with other users as well as attend dance and music events. By using the TIDAL platform, artist co-owners (which include Jay-Z plus Lil Wayne, Rihanna, Calvin Harris and Coldplay's Chris Martin) have acquired access to broadcast their content within the Sensorium Galaxy. Lior Tibon, COO at TIDAL explained: "Our relationship with Sensorium provides TIDAL with the opportunity to gain exclusive rights for its stellar artist roster to have their shows and music broadcast exclusively within Sensorium's themed virtual entertainment worlds."
Source: MusicBusiness Worldwide – Tim Ingham, 26 August 2020 https://www.musicbusinessworldwide.com/jay-zs-tidal-makes-vr-concerts-bet-buying-7m-in-tokens-from-100m-backed-sensorium-corporation/

It seems clear that audiences thwarted in their desire to attend live concerts and shows because of the impact of COVID-19 have, not unsurprisingly, turned to livestreaming to sate their entertainment cravings.  What is interesting, and a trend to watch in the future, is live streamed music to consumers homes.  If you can't physically attend, what's the next best thing?  Answer:  listen to high quality livestreamed music and join virtually on your own or with friends.
Also clear is that music streaming services – like the ones available through airable.API – will combine their offerings with live music services.