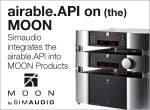 Rocky Mountain Audio Fest: MOON by Simaudio introduces products with airable.API
The modern age is awash with a confusing amount of ways to listen to music, but our favorite music can be easily accessible that is just one click away. To make this possible, Canadian high-end audio manufacturer Simaudio uses the airable technology and service in all its MiND products. The MOON by Simaudio products deliver the best performance at their respective price points, with careful attention to detail during design phase and lots of passion for music quality.
"Our team of professionals is always pushing the envelope for new technologies and solutions to raise the bar for high-performance, achieving new heights in «musical ecstasy »." says Dominique Poupart, MOON Product Manager at Simaudio Ltd. "The airable.API and media services give us access to worldwide internet radio stations and to up to date music services like TIDAL. It enables us to meet our client's needs in a very flexible way".
Best in Class Media Interface
The airable.API gives access to many different sources of internet media. From music services to radio stations from all over the world, of any radio genre or music style. This meta API enables Simaudio to choose content offered by MOON products in a flexible and cost efficient way. It gives Simaudio the ability to adjust it's products according to the consumers needs and market requirements. The comprehensive internet media offering and editorially curated content is easily navigated through the MOON companion app.

Available for new and installed MOON products
The update of the app for MOON MiND products is available in the iOS App store. First public demo is at the Rocky Mountain Audio Fest 2015 in Denver .
"We're delighted to see the airable.API used in MOON technology products. The MOON by Simaudio team is striving to provide an extraordinary audio listening experience through it's products." says Heiko Meertz, CEO of airable-Tune In.
Details about the MOON App see here.
Availability:
The update of the MOON App is available in September 2015:

Press Release
Download the press release as PDF here.
---
Further Information:
Media contacts:
Christoph Müllers
info@prmuellers.de
+49 2839-­‐5683130
airable – Tune In GmbH
Am Treppchen 2
41334 Nettetal
Germany
---
About airable:
The interconnectedness of our world is changing the way we consume media. We decide for ourselves how, when and where we want to listen radio shows or watch TV shows and consume any kind of media – regardless of time and place. airable – Tune In knows webradio stations , TV shows, podcasts, video- audio shows, and any media. The airable catalogues with its countless media sources from around the world facilitates this kind of on-demand self-service. Curators and editors suggestions, intelligent sorting, search functions and recommender systems track down radio stations, shows, content, topics and other interesting things. Consumers access the airable catalogues and services via devices of exclusive consumer electronics manufacturers and apps. airable – Tune In GmbH was founded in 2010 and has offices in Germany and US.
About Simaudio Ltd.:
Simaudio Ltd. has been designing and manufacturing innovative, leading-edge audio and video products since 1980. MOON products have been globally recognized for their world-class performance, garnering numerous accolades for this outstanding achievement. Our products are engineered and built in Canada, utilizing advanced, efficient, "green" assembly techniques with strict quality control. Furthermore, our manufacturing processes are part of our philosophy, whereas the high quality and long-life of MOON products are the best way to preserve our environment, avoiding premature obsolesence. MOON products meet or exceed all international requirements for safety, performance and durability. At Simaudio, great music matters. However, great music for a lifetime matters most.