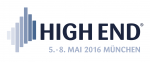 High End Show Munich opens doors from May 5-8. See new products that embedded the airable.API, airable.Radio or airable.Show of Tune In. Check the stands of:
Platform partners that provide excellent product development service for embedding Tune In's airable solutions are:
The airable unified API of Tune In gives devices access to internet radio and podcasts catalogues plus access to external 3rd party services like audioBoom, Deezer, Qobuz, TIDAL and palco mp3.
For a complete list of companies using Tune In please check References.