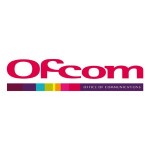 Ofcom – UK's communications regulator – published the "Communications Market Report". The report contains statistics and analysis of the UK communications sector and is an important  reference for industry and consumers. It gives insights to data and analysis on broadcast television and radio, fixed and mobile telephony, internet take-up and consumption and post.
Digital Radio Listening
Listening through internet doubled in four years
Climbing from 10% in 2011 to 22% in 2015, the proportion of listening over the internet is now greater than listening via mobile phone. Radio over the internet has grown each year since 2011.
DAB
There are interesting numbers on digital terrestial radio – DAB – (in the UK without the "+"). DAB remains the most popular digital platform (2.2pp growth of total listening hours). Digital's overall share is just under 40% (39.6%).
High installed base of DAB
Ownership of DAB Sets is up to 49% in Q1 2015 (percentage of adults who claim to own a DAB set).
65% of new cars have DAB fitted as standard
That's a great installed basie of DAB Radios compared to other EU markets.
DAB take-up slowed in 2015
growth in  2015 is at 1.1pp
previous years the rate of growth ranged from 4.8pp to 1.7pp:
49,0% Q1 2015
47,9% Q1 2014
44,3% Q1 2013
42,6% Q1 2012
38,2% Q1 2011
34,5% Q1 2010
31,2% Q1 2009
27,3% Q1 2008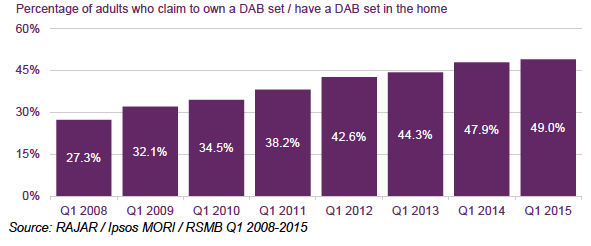 For further details see the Ofcom website and the full Communications Markt Report.